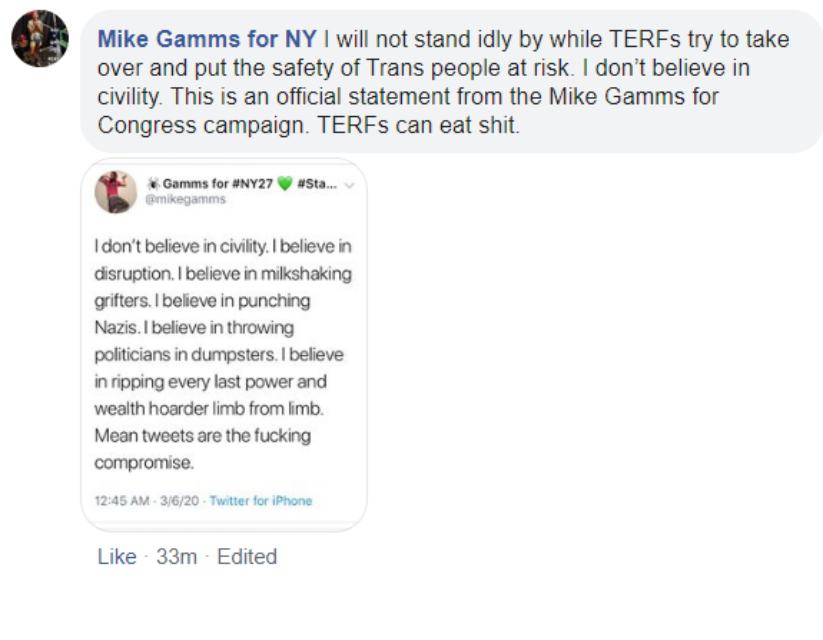 It was with mixed feelings, that we had long thought that this material had been lost to a purge of the entire thread on which the exchange documented in the attached pdf was conducted.  Then on April 27th, 2021, Mike Gammariello used a purported welcome message addressed to Paula Densnow, a new Illinois Delegate to the Green National Committee to project veiled threats to publicly doxx her among his political allies who have demonstrated a history of resorting to violence to silence women who dare to speak out in defense of women's rights.  
A complaint was filed against Mr. Gammariello with the forum managers for the national committee's list serves.
Seeing a reference to this exchange as having been lost to the purge of the thread in the archives of the party's social media group, another Delegate found the attached pdf archive of the exchange in his personal archives.  He made it available for posting here, nearly 14 months after the original series of less veiled threats. 
The comment pictured here was one of many which specifically threatened two women by name, including one where he warned, "I'm too busy booking a flight", with a screen shot showing the Trip Advisor price options for flights between his local airport and the airport local to the home of the woman he was threatening. 
The threats included repeated posting of a SonicFox meme depicting a cartoon character holding a real handgun, pointed at the viewer, with the caption: "Shut the Fuck Up, TERF".  Also featured in Mr. Gammariello's public melt down were repeated postings of an 'Eat Shit and Die' meme addressed to 'TERFs'. 
The exchange took place here, but has since been scrubbed of his rants.