[[ a pdf of this article as published by Green Horizon. ]]

The topic of sex and gender has never been more contentious. Who would have thought, thirty years ago, that a popular trend would take hold in our society that denies the material reality of sex and promotes instead the ideology of "gender identity"?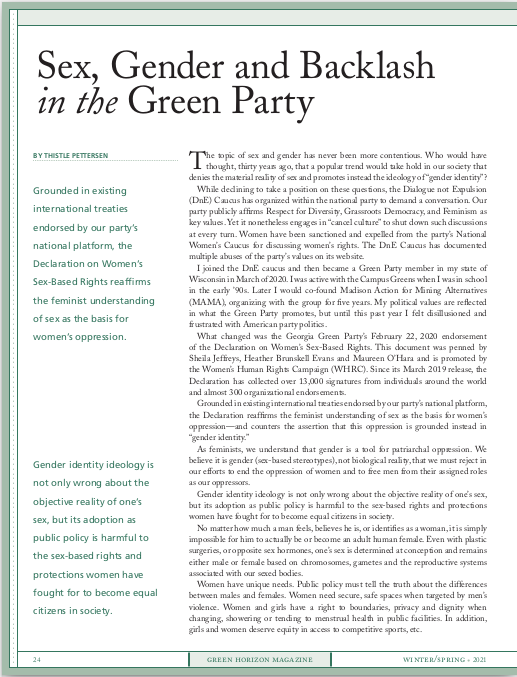 While declining to take a position on these questions, the Dialogue not Expulsion (DnE) Caucus has organized within the national party to demand a conversation. Our party publicly affirms Respect for Diversity, Grassroots Democracy, and Feminism as key values. Yet it nonetheless engages in "cancel culture" to shut down such discussions at every turn. Women have been sanctioned and expelled from the party's National Women's Caucus for discussing women's rights. The DnE Caucus has documented multiple abuses of the party's values on its website.
I joined the DnE caucus and then became a Green Party member in my state of Wisconsin in March of 2020. I was active with the Campus Greens when I was in school in the early '90s. Later I would co-found Madison Action for Mining Alternatives (MAMA), organizing with the group for five years. My political values are reflected in what the Green Party promotes, but until this past year I felt disillusioned and frustrated with American party politics.
What changed was the Georgia Green Party's February 22, 2020 endorsement of the Declaration on Women's Sex-Based Rights. This document was penned by Sheila Jeffreys, Heather Brunskell Evans and Maureen O'Hara and is promoted by the Women's Human Rights Campaign (WHRC). Since its March 2019 release, the Declaration has collected over 13,000 signatures from individuals around the world and almost 300 organizational endorsements.
Grounded in existing international treaties endorsed by our party's national platform, the Declaration reaffirms the feminist understanding of sex as the basis for women's oppression—and counters the assertion that this oppression is grounded instead in "gender identity."
As feminists, we understand that gender is a tool for patriarchal oppression. We believe it is gender (sex-based stereotypes), not biological reality, that we must reject in our efforts to end the oppression of women and to free men from their assigned roles as our oppressors.
Gender identity ideology is not only wrong about the objective reality of one's sex, but its adoption as public policy is harmful to the sex-based rights and protections women have fought for to become equal citizens in society.